Many procrastinate when it comes to financial planning because when left alone without professional guidance, figuring out how to invest your money can be a challenge and create anxiety. Thus what usually happens is that the frustrated investor – still without a plan – pushes planning further into abeyance until another five years go by.
It's better to automate than to procrastinate.
There are advantages of automated investing. It has been proven that many investors have a paranoid side when the markets begin to lose momentum and capital valuation. They may buy the latest trendy fund that promises two-digit annual performance but think about bailing out at the slightest sign of market turbulence or fear of loss. Then they may lose the money forever because if they sell, they actually don't allow the fund to regain any lost capital. It's kind of like calling a boxer defeated as he is rising before the bell rings.
How it works Automated investing allows you to pay yourself first. You authorize to debit the money from your bank account; then, fund units are purchased at regular intervals (usually monthly) and added to your fund investment account, automatically for you. You figure out how much you want to invest and how often. Effectively your investment grows on its own as you go about your day-to-day business. The above hypothetical illustration assumes $600 invested monthly with dividends reinvested and an 8% annual fixed return for the number of years shown. Each example is pre-tax and reflects monthly compounding. This chart is for illustrative purposes only and does not represent the performance of any specific investment.
The following graph will depict the need for an actionable plan. Most people will need a million dollars or more upon which to retire.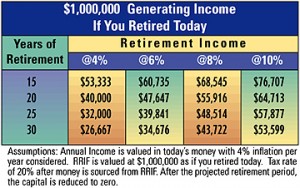 It works because you are paying yourself first, so you will not miss the debit from your account. It limits worry because you are not thinking about the automated investment. Because you are not worrying, you minimize stress over the timing of the next investment purchase. Therefore, when the markets go down, you keep buying anyway at bargain prices, averaging the cost of the unit values as you go. You buy more units when the market value per unit drops. When they later rise in value, the profit on those 'averaged' units will excel more than on the purchases you'll make during the rising market.
There is an averaging effect on the unit value referred to as dollar-cost averaging (DCA). This averaging effect lessens market losses because in a bear market (when markets are lowering in value), you buy more units than in a rising market. The share price of a fund can vary enormously. Using DCA with an automated purchase plan with the same amount of money makes this volatility work for you by adding more units per auto purchase over time to your portfolio.
When markets get bullish again, the fund gives you well-positioned access to benefit from the stock market's revitalized growth potential. True, DCA does not guarantee you won't lose capital in a down market, but it can give you more shares bought at lower prices which will benefit you when the market booms. If you procrastinate, automate.
It keeps you focused – not distracted!
If you thought about where you would invest every time, you might prefer to buy a new pair of shoes or new golf clubs. Instead, the automated debit takes no extra thought and is rarely noticed, and the investment builds over the long term.
Utilize professional help. Why not let a good fund manager do his or her job while you commit to buy fund units regularly—similar to paying your monthly bills. Many people wait until they are 40, 50 or even 60 before they begin to realize that retirement is coming on fast. There will never be a "right" time to start. Begin utilizing the power of compounding your investment gains over the long term. The longer you wait before starting, you limit the long-term period left within which to make compounding work for you.
To procrastinate or automate? – that is the question. If you're 55 and want to retire at 60, it will be near-impossible unless you win the lottery! If you put off investing the closer you get to retirement, you're diminishing the powers of compounding at the same time. The disadvantage is that investing in great investments won't necessarily empower your portfolio as you near retirement. That is because you'll need to begin selling your fund units to create income far too soon to retire on. You get closer to the non-compounding method of stashing cash under the mattress. Therefore, if you procrastinate, use dollar-cost averaging and automate.