RRSPs alone may not be best for the wealthy
The following chart indicates that you can save a small fortune over time in an RRSP. Since your focus is on retirement, much of your wealth may accumulate using this registered vehicle. For illustration purposes,  you begin to invest annually $24,000 using the RRSP. Let's say you are 25 years old. Fast forward 25 years. At age 50, you may have accrued well over one million dollars at 4% per annum.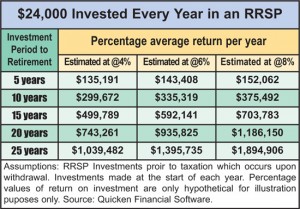 Tax consideration When planning your will you hoped that your children would inherit your savings. If your spouse has predeceased you, and you die later, consider the following scenario.
Your children as joint executors file your final tax return. Imagine the shock when they find out that you owe $375,000 on your remaining RRSP/RRIF of $750,000 (for hypothetical use).
Death and RRSP Taxes In this case, your RRSP wealth has been considered "cashed out" placing you in the near-50% taxation bracket, reducing this portion of your nest egg to about 50% of your RRSP.
True, the government pays you a tax refund every year when you contribute your hard-earned money. In effect, you have agreed to allow Canada Revenue Agency (CRA), upon your decease, to swap approximately half of your accrued wealth — in this case, $750,000, as a form of reimbursement for your annual tax refund over the years. So for some, the RRSP may not be the preferred route of investing.
In reality, what occurs with most RRSPs looking at this simple example? Essentially your tax deduction over the years is really only a "deferred tax deduction". It is not a tax deduction in the sense of a business-related tax deduction if the government gets to take a significant amount of your tax refunds back — and consider this — with all the accrued RRSP growth of your investments also. This is the case often when people do not outlive their RRSP wealth.
What's the solution?  Consider mixing TFSAs and perhaps non-registered investments into your retirement savings mix. You may also consider purchasing enough life insurance to compensate for the taxation in your final estate.
The TFSA can provide savings options and more significant savings incentives to seniors and low- and modest-income individuals.
Talk to your advisor about the right solution for you.