Firstly, Thank you for your business, and for placing your trust in our firm. During this challenging time, we're working hard to give you the confidence that you need as an investor client. The biggest global news of the day is COVID-19. This has alarmed the markets which are reacting during this time of uncertainty. We are reaching out to each of our clients to let you know we're here for you if you want to talk. Here is the current viewpoint on the market's recent reaction to the coronavirus outbreak with regard to investments.
Our commitment Our goal is to manage your money through all market contingencies. That means both 1) the growth periods of the market; and 2) such times as this – a downswing due to the global scare.
Market Psychology and Fear-Based Reaction Stock markets move, in reality, according to the mass psychology of the people. When the majority of the people optimistically believe in a healthy economy, they invest and stay invested. This belief has funded the tremendous advance of our current economy as people continue to invest more of their savings in business ventures using equity investments. On the flip-side, if people feel pessimistic about the success of companies trading equity stock in the market, they can influence others who follow like lemmings. 
The danger of following the crowd The risk of following the crowd is that they can run fearfully out of the market precisely at the wrong moment — increasing their extreme risk of loss. It is the collective feelings of the masses that move market trends, up or down. So we caution you to stay calm and see how the market does once this unsettling situation calms down. History has proven that many have lost much of their savings not by staying in the market but exiting their investment holdings reacting to fear-based news. And many wise investors eventually see their investments return to normal and often better gains in the future. 
We're here for you. Our goal is to manage your money through all market contingencies. That means both 1) the growth periods of the market; and 2) any downswing due to the global scare. We continue to hold to the following financial planning values during this time. It is important not to sell investments when they have declined in times like this.  The wisdom remains: invest by design. 1. Patient Use of time: Acknowledge market cycles and 2. Do not over-trade: avoid market timing.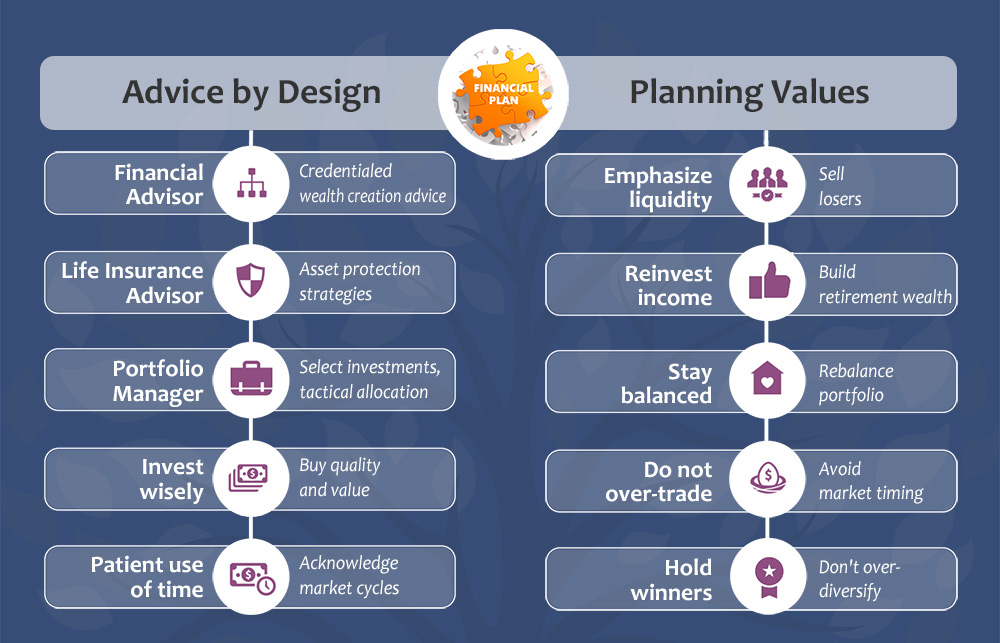 What is happening in the markets? The recent growth in new cases of COVID-19 in the USA, Canada and Europe, for example, has prompted travel restrictions and a state of emergency in many countries. The governments and federal banks are responding with stabilization relief, which should eventually favour the markets. 
Stay the course. Over the long-term corrections are expected in the investment cycle. Investors who stay invested, as opposed to allowing fear to cause them to try to time the markets generally see future increases. This market decline may also represent an opportunity to buy quality companies at attractive prices. Warren Buffet the famous billionaire investor said: "It is unwise to be fearful when…others are fearful." See the chart below to demonstrate the risk of not being invested and missing out on the stock market's best days, which often come after large declines like we have recently seen.

It is wise to stick with your existing long-term investment plan, which takes into account stock market volatility. Your plan was carefully constructed to reflect your personal objectives and investment time horizon. 
We'll keep this information updated. If we have something important to share with you with regard to your investments, we will. In times like these, we want you to know – we're here for our customers.
Feel free to call the office if you have any questions.