The Patterns of Economic Recovery
Updated Feb 1, 2021, Copyright AdviceOnMedia®
Four primary shapes—L, U, W, and V, present various opinions of how the stock markets may recover going forward. The following graphic shows the various shapes that economic recovery can take.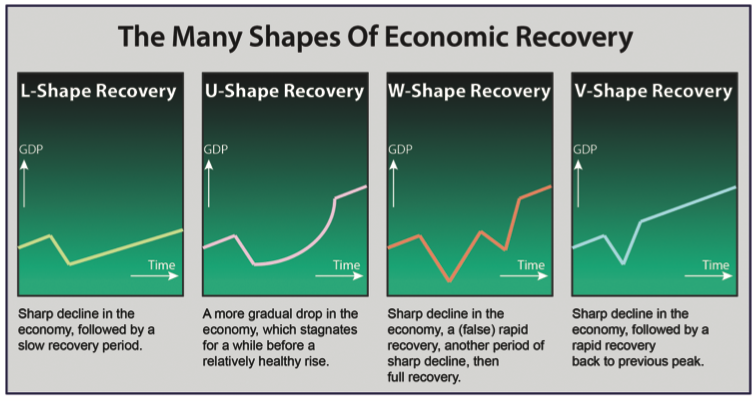 L-shape This shows a sharp decline in the economy, then a slow recovery over time. This can result in increasing unemployment, over several years, until GDP rises back to previous levels.
U-shape Here, the economy stagnates for a few quarters, up to two years, before we see an excellent return to its last peak.
W-shape. This view offers promising speculation of recovery, only after a secondary dip back into a sharp decline, then finally entering a full recovery period of up to two years. This fiscal concept is also termed a "double-dip recession", similar to what was seen in the early 1980s.
V-shape Here is the view that a sharp decline will precede a rapid recovery within a year to its pre-pandemic robust peak. This was achieved on November 23, 2020.
Example: November 2020's V-shaped Recovery The good news for investors was that on November 23, 2020, the Dow Jones Industrial Average (DJIA) saw record market highs – many stocks rebounded from their March 2020 lows. In November 2020 the DJIA had` its best month since 1987. The November 2020 recovery was in the shape of the V pattern (see V-pattern below).1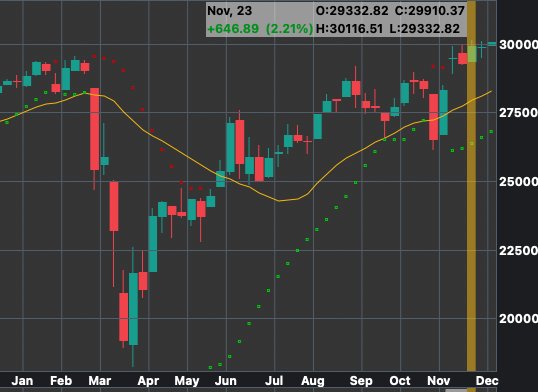 Graphic: VisualCapitalist; Concepts: Forbes | MarketWatch | Investopedia
1 Stock Spy