The global economies still face the high rising costs incurred by the pandemic affecting us all. Economists, financial analysts, fund managers and CEOs of various reputable financial institutions continue to reassess their viewpoint on the recovery of the world's financial markets.
There are different levels of optimism about its potential recovery. Renewed health-related risks have slowed down the speed of the recovery of the markets. Increasing global coronavirus pandemic up-curves can incite investor fear to which the markets react. Gross Domestic Product (GDP) is important as it relates to employment. Less employment potential means emergency benefits may need to continue further, while less governmental income taxation can result in increased budgetary deficits.
The Patterns of Economic Recovery
Four primary shapes—L, U, W, and V, present various opinions of how the stock markets may recover going forward. 
L-shape This shows a sharp decline in the economy, then a slow recovery over time. This can result in increasing unemployment, over several years, until GDP rises back to previous levels.
U-shape Here, the economy stagnates for a few quarters, up to two years, before we see an excellent return to its last peak.
W-shape. This view offers promising speculation of recovery, only after a secondary dip back into a sharp decline, then finally entering a full recovery period of up to two years. This fiscal concept is also termed a "double-dip recession", similar to what was seen in the early 1980s.
V-shape Here is the view that a sharp decline will precede a rapid recovery within a year to its pre-pandemic robust peak.
The following graphic shows the various shapes that economic recovery can take.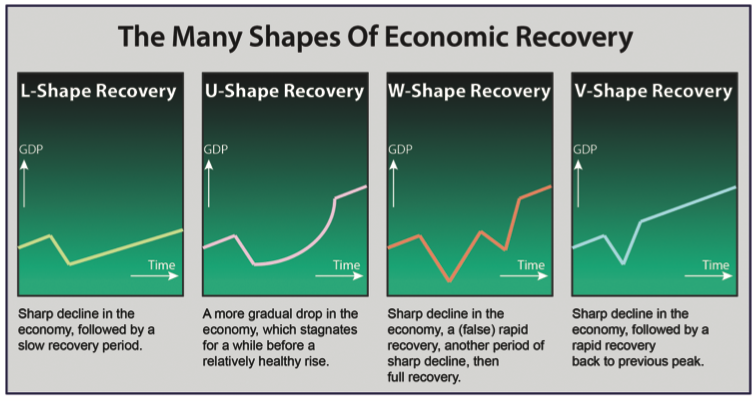 Graphic: VisualCapitalist; Concepts: Forbes | MarketWatch | Investopedia